Celebrating your First Communion? Make your own unique invitation or thank-you card in newspaper format!
Your child's First Communion is an important rite of passage. No doubt you'll want to celebrate this special day in your own unique way! Surprise your guests with a unique invitation to the Communion celebrations, or with an original thank-you card to commemorate this special day. Do it with your own Communion newspaper!
Choose a theme for your Communion newspaper
Happiedays has several templates from which to choose, but you can always opt for a blank template if you want to start from scratch and design a Communion newspaper that's completely tailored to your needs.
Before you get started, the first thing you have to do is choose a theme. It's always a fun idea to create a common thread for your First Communion by having the theme for your newspaper mirror that of your party celebrations. And it doesn't have to be difficult! There are heaps of options that would make for a great theme for your newspaper: a hobby, a favorite color, a cartoon character, etc. Together with your child, you'll undoubtedly come up with something fun to give your Communion newspaper that unique touch.
Use our online editor to create your Communion newspaper
Once you've chosen a theme for your paper, it's time to put (digital) pen to paper. Get started immediately with Happiedays! Creating your own newspaper is not only a fun and original idea, it's also super easy to do! Thanks to our user-friendly online editor, creating your own newspaper has become child's play!
So why not let your child have a go and let them create the party invitations or thank-you cards for their First Communion? I mean, imagine the sense of pride your child will have after having made their Communion newspaper themselves! And it would certainly give for a very unique product! You can always work on the finishing touches together.
Not sure what to write about in your Communion newspaper?
So, you've decided on the main theme of your paper and together with your child you've had a look at how the Happiedays online editor works… You're now ready to start creating a newspaper for your child's First Communion. Not sure what to write about? The possibilities are endless! We've summed up just a few ideas for your unique Communion newspaper below.
Are you making a newspaper before the Communion celebrations? Turn it into an original party invitation!
Build up to the big day and place your child in the spotlight. Why not include an exclusive interview with your child, for example? A simple Q&A! You can ask them about their expectations for the big day, their preparations for the Eucharist or their preferred gift ideas.
Pen down the day's programme with all the necessary practical information (about the Eucharist, the celebration dinner, the party…) so that your guests know where to be and what to expect.
Design a unique menu for the celebration dinner (or use one of the templates we've already prepared on the Happiedays website) and have your Communion newspaper double as unique table decoration.
Have your child write a personal thank you for their godmother and godfather. A lovely poem or photo is all you need to turn your Communion newspaper into a fun and original thank-you card.
Do you want to make sure you haven't left out any important information? Be sure to check out this checklist for your unique newspaper invitation!
Are you making a newspaper after the Communion celebrations? Turn it into a unique thank-you card!
Look back on your child's First Communion with a unique report on the day's proceedings, the celebrations and even the preparations. You can add a description of the day's events as well as the atmosphere, an overview of all the communicants, and a selection of songs and poems recited during the Eucharist. That way, your thank-you card will also serve as a lovely memento of the big day!
Don't forget to say thank you to those that made the day possible: the catechists, the communicants, the godmother and godfather, and all the guests who celebrated this special day with you.
Maak a photo-reportage and thank all your guests for their attendance! 
Choose a fun theme for your newspaper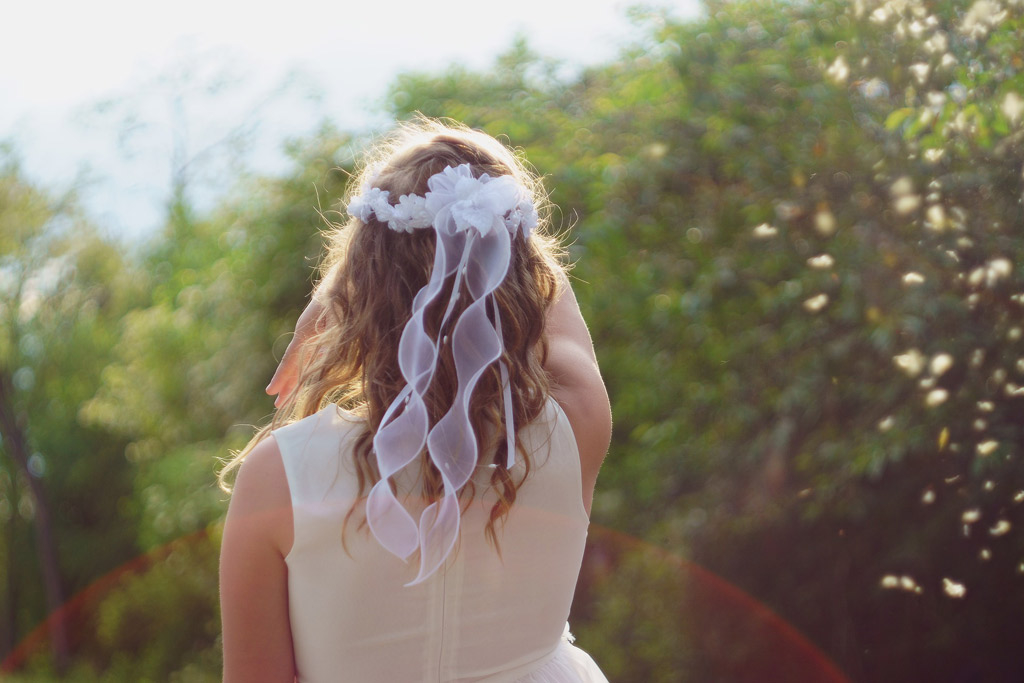 Don't forget to add lots of adorable photos
Add plenty of photos to your Communion newspaper!
Whether you're making your Communion newspaper before or after the big day, one thing is certain: photos are a must! A photo-reportage of the ceremony and celebrations only makes your paper better! Take your pictures with a professional photographer, a close friend or even by yourself! After all, no one could stop talking about how adorbale your daughter looked in her dress!
Personalize your Communion newspaper
With Happiedays, you can personalize your party invitations and thank-you cards and send your guests a customised newspaper with their very own name on the front cover. Is your newspaper a party invitation? Then you could add a tailored road-map for each guest. Is it a thank-you card? Then you could add a photo of your guest together with the communicant on the front page. This way, you can turn each one of your Communion newspapers into a unique copy for your guests.