Throwing a Communion party at home? Give your party that extra touch with a homemade newspaper
To celebrate Laura's First Communion, her parents decided to organize a hip and trendy garden party at home – charming outdoor lights, iced drinks and creative backyard games included. As a finishing touch, they decided to surprise their guests with a unique homemade newspaper which served as an original party favor for a First Communion.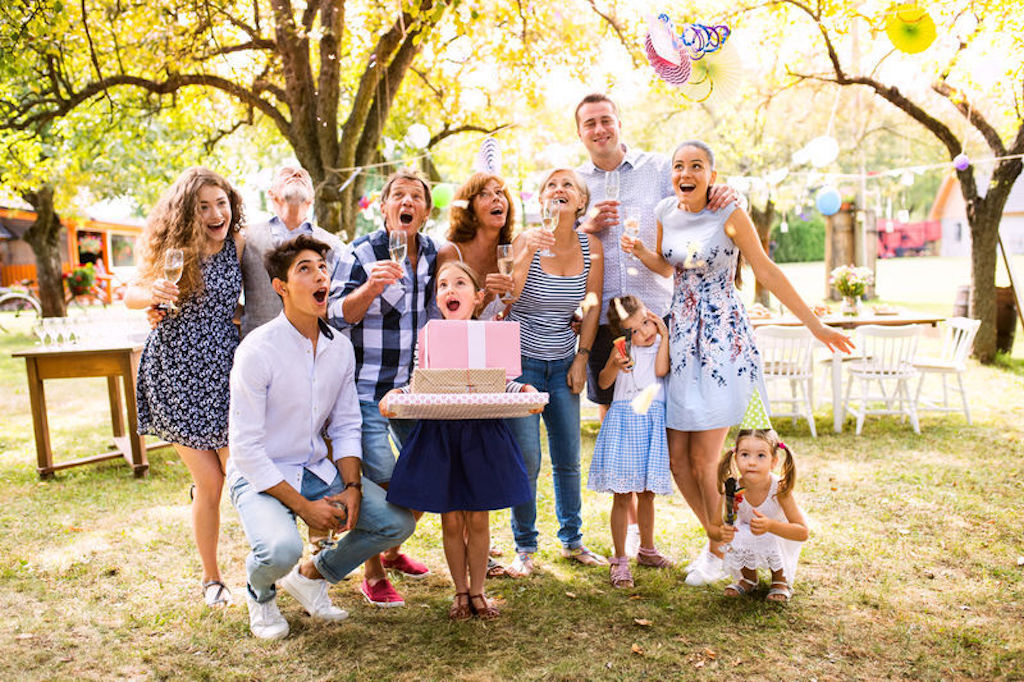 A hip and trendy garden party as featured in Laura's homemade newspaper
"We decided to throw a party for Laura's First Communion and invited lots of family and friends over for a hip and trendy garden party. For that extra special touch, we decided to make a homemade newspaper to welcome our guests to the party. We filled the newspaper with lots of fun photos, games and thank-you messages for our guests to enjoy as a unique and original party favour for Laura's First Communion:
Photos: A few weeks before the party, we had organized a photo session for Laura's First Communion. We had lots of fun pictures taken with family, friends and fellow communicants. Everyone was in full attire and no one could stop talking about how adorable Laura looked in her dress! We placed the photos in the homemade newspaper which would serve as an original party favour for Laura's First Communion. That way, Laura was free to rump about with the other children in a change of clothes once the party had started.
Menu: A party is never complete without some good food! To minimise the preparations for the party, we decided to keep things simple and hire a caterer. And instead of the classic menu card, we opted for a more creative approach. By incorporating the menu (and kids' menu) in our newspaper, we were able to design a menu that was in line with the overall look & feel of the party. As a menu, the newspaper also doubled as a fun centrepiece and original party favor for a First Communion.
Party games: Once our tummies had been filled, it was time to get the party started! With the help of our homemade newspaper, we decided to provide our guests with an overview of the different activities we had prepared. For the children, we had installed a giant kids' corner filled with toys, coloring books, costumes, and arts and crafts supplies for everyone to enjoy. We had also prepared several backyard games the adults could join in on. Besides the usual petanque and kubbs, we decided to get creative and make our own backyard games. With just a handful of decorated bottles and tin cans, we made several homemade versions of popular backyard games such as ring toss, can toss and bowling. We used our homemade newspaper to give an overview of the activities and added some fun craft ideas, dress-up tips and games rules.
Thank-you messages: There's nothing better than celebrating your child's First Communion with those that love and support her most. That's why we wanted to say a special thank you to those that made the day possible: the catechists, the communicants, the godmother and godfather, family and friends, and everyone else who celebrated this special day with our family. Laura also added a personal message to thank everyone for their continuing support and for the many gifts she received. And we included a special shout-out to Laura's godparents, of course."
Looking to make your own original party favor for a First Communion?
Are you organizing a party for a First Communion and are you looking for a fun and original party favor? We have lots more great ideas for a unique First Communion newspaper. Are you making a newspaper before the Communion celebrations? Then live up to the big day and turn your newspaper into an original party invitation! Are you making a newspaper after the Communion celebrations? Look back on your child's First Communion with a unique report on the day's celebrations and turn your newspaper into a unique thank-you card. And don't forget to check out our Pinterest page for fun ideas and extra tips and tricks for your Communion! We can't wait to see the end result!